Rae McDonald has always made her home by the water-side -- from the little lake of her Minnesota childhood to the great Puget Sound near her western Washington home today. Rae's career spans that of elementary school librarian and teacher, and artist. She follows her passion for creating in the kitchen, growing her family's food, anything art, and the wild outdoors. And, she is always "fishing" for new story ideas, hook ready and baited. A FISHING SURPRISE, Rae's first published picture book, was inspired while riding her bike.
Rae is a member of the Society of Children's Book Writers and Illustrators and the Author's Guild. SCBWI guided my beginnings with the awesome task of writing for children. And, today, it continues to inform and inspire my work.
She values serving as an SCBWI mentor to aspiring and talented new picture book authors. The thrill of learning surrounds the experience.
The Writing Life
From Rae:
I get very excited when a new idea latches on to me. First, I write the idea down in my journal so I do not forget my original thoughts. If the idea stays with me, I begin a folder for this "story to be". When I do this, the project is real. Now, it waits for me to come back and work on it.
A great deal of my story writing takes place in my head. I most often make a movie in my mind before I ever write the words out on paper. Sometimes the stories never leave my head. They become truly wordless books. I do lots and lots of research for my stories, even if they are fictional picture books. Doing this helps me toss ideas around.
Creating picture books is the most wonderful kind of work. I go out on my bicycle or take my dog for a walk and let my mind wander. And, if I can do this by the water-side I am a happy person. I always watch for changes in the world around me. Sometimes, the smallest happening or information sparks a whole story.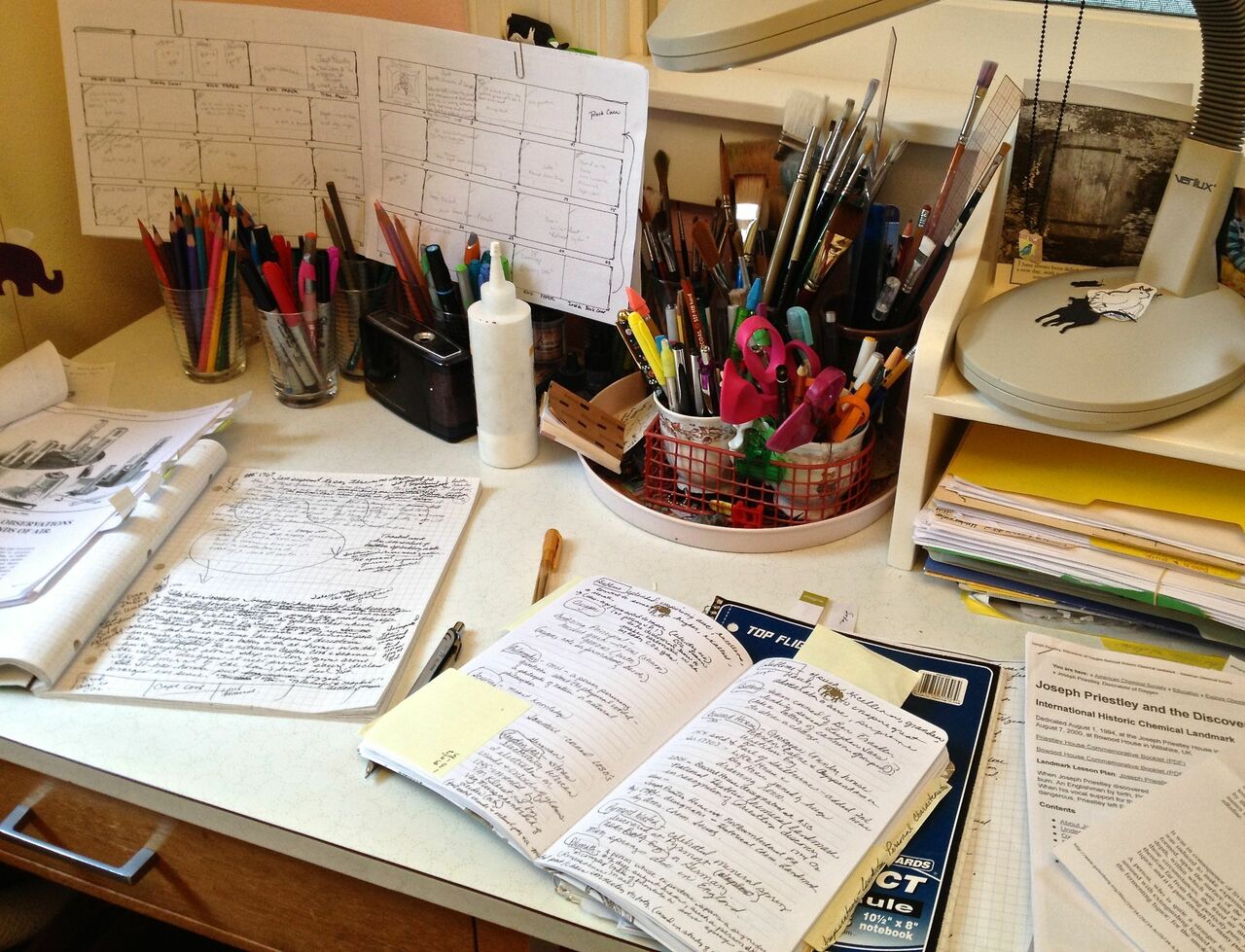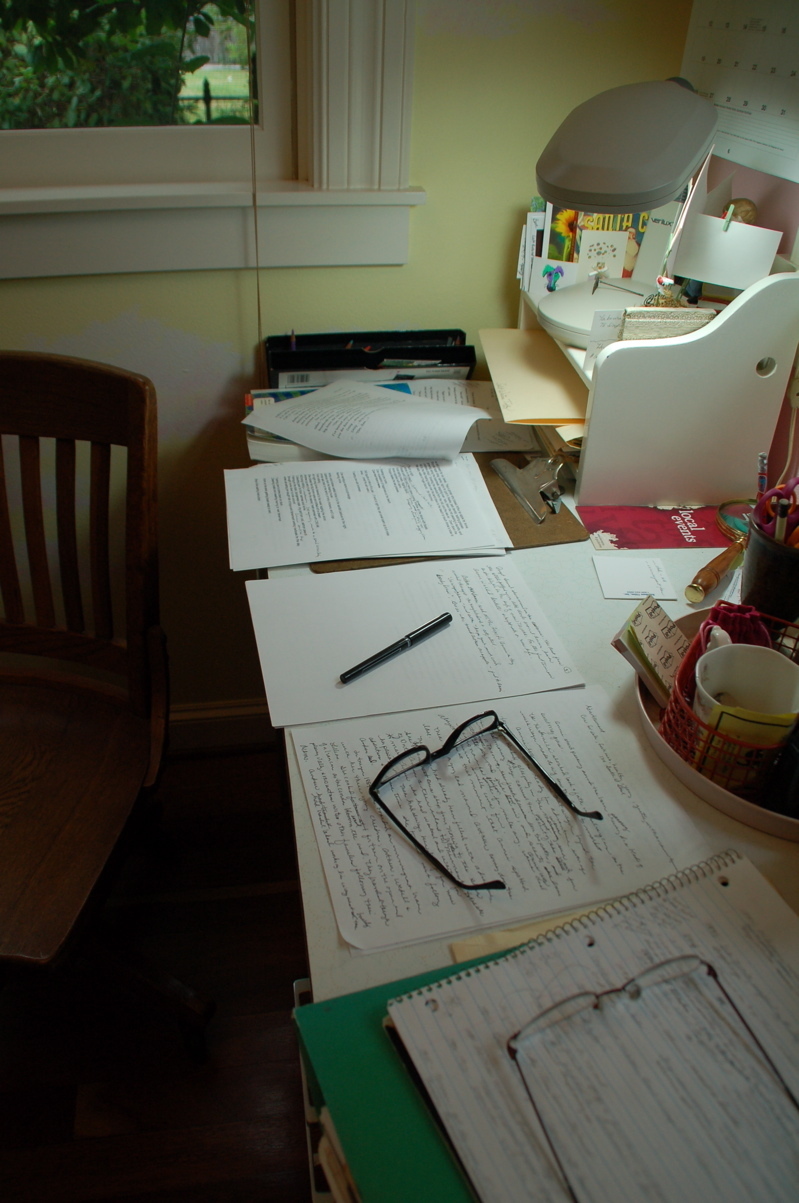 What's on my desk right now... waiting for a publisher and their time to shine.

My count of stories waiting for the right publisher is reaching tall-tale proportions!
Dog Smarts - Poetry
DOG-CABULARY -PB
A New DAy - PB
Song Sparrow - PB
Ten Pennies - PB - Oliver finds ten pennies under his bed and spreads the wealth through a mathmatical day filled with surprises.

The Three Little Pigs and the Christmas Visitor - PB -Wolf it turns out, loves fruitcake! Full of laughs, a very hungry wolf, badly knitted woolies, and three very clever little pigs.

Three Biographies - Who discovered there was more to air than air? Who invented the process to make bubbly water? Who began the study of photosynthesis? Who explored endless electrical conductors? Joseph Priestley - a Biography in the making. After 9 months of research and 3 more of writing and research ...I have a picture book biography manuscript to share! A moment in time biography, and a middle grade biography.

FUZZ - PB - It is all about a piece of fluff chewed from an airplane stuffy. Life for Fuzz is out of control until he finds his wings. For the youngest readers but a story of life. My first illustrations are taking flight.

Duck and Dood - A laugh out loud new easy reader / graphic novel series

Dash and Flash - A new easy reader series
Book 1: Dash And The Trail Of Left Behind
....easy reader style, meet a curious puppy called Dash.

The Three Explorers And The Legendary Expedition - PB - (co-authored with my creative and witty husband, Fred)

The Birthday Surprise - PB
....on the Fourth of July?

Annie, The Cow Who Was Always Ready
....historical fiction and a very adventuresome cow

Grandmother's Dolls - PB -
....giving from the heart

That Shy Muskrat - PB -
....down at the pond around the bend

Ten On The Beach - PB -
....count down with ten crabby hermit crabs

The Hundredth Tooth - PB -
....waiting on a loose tooth takes time and patience

Rain Forest Rumba- PB -
....what's that crazy beat? "Dew whop"..."Boom, ba-ba-boom" Hare races through the drippy temperate forest to dance to the beat of a human intruder building a rainforest boardwalk. "Beware the man," cry his rainforest freinds.